Statistics show that 90% of adults want to stay in their homes as they age. The hurdle then becomes how to balance your health and wellness needs as well as basic home maintenance when those things become more and more difficult to do on your own. That's where LifeChoices can help. Our program is designed completely around the idea of you aging in place and having us provide all of the services needed for you to do just that. We provide all of the amenities of assisted living from day one of being a member with no wait, as you need it, when you need it. LifeChoices at Bethany is the first membership program of its kind in the state of Iowa. Our program will help you age in place by holistically caring for all of your needs as you age by uniquely combining all of the needs of long-term care with our comprehensive preventative wellness program. By putting our focus on wellness, independence, and asset protection we give you the security of knowing that all of our services are ready and at your fingertips at a moment's notice.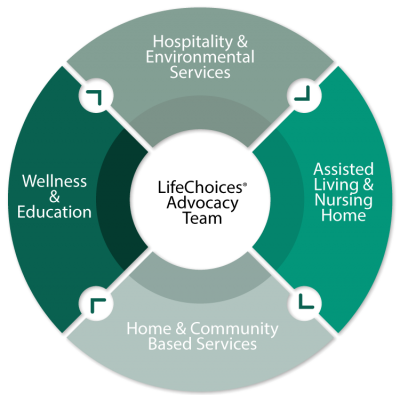 Maintaining Your Independence at Home
Care coordination
Family and physician liaison
Home health aides, Registered Nurses, Dietitian, and therapists
Personal care and companionship
Medication management
Personal emergency response system
Medical transportation
Assisted living and nursing home care (if needed – covered 100%)
Home fitness equipment
Personal trainer – one-on-one or group fitness classes
Meal preparation
Educational programs
Fall prevention
Social activities
Chaplain services
Massage therapy
Environmental Services Needs:
Home Safety Assessment
Home maintenance, safety modifications, and handyman services
Lawn care and snow removal
Referral service
Having your ducks in a row, and preparing for the future is the best choice you can make today. It's about future proofing and protecting you, your loved ones, and your assets. You will have peace of mind living independently in your own home, all while being protected by one of Iowa's oldest and trusted aging services providers.
Other Resources about Continuuing Care Retirement Communities Without Walls
*All content on above links are express copywrite of respective organizations and are not the property of Bethany Life or LifeChoices® at Bethany.
Would you like more information about LifeChoices® at Bethany? Call Austin Mortvedt, Director of Life Choices® at Bethany, anytime at 515-290-6756 or request more information here.