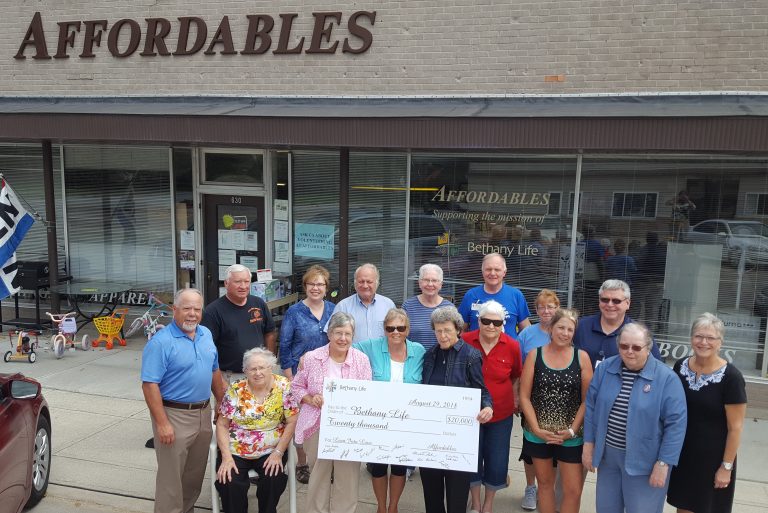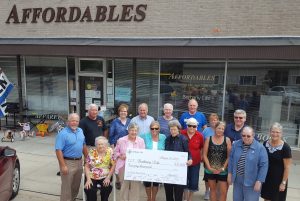 Bethany Life staff and volunteers celebrate $20,000 support of Lean Into Love Campaign.
The Affordables thrift store in Story City is contributing $20,000 to the Bethany Life Foundation's Lean Into Love fundraising campaign.  The Lean Into Love initiative supports the Foundation's Employee Appreciation Fund and the Excellence in Nursing Fund.  Larry Elphic, Foundation Director for Bethany Life stated that, "These two funds are critically important as our organization works diligently to have highly trained and motivated employees and therefore the highest quality of service possible."  The funding supports employee appreciation events, significant recognition of high performers, nursing educational scholarships, plus many smaller recognition opportunities at anniversaries, birthdays and other employee milestones.
Betsy Warburton, CEO stated that, "At Bethany Life we provide our employees competitive salaries and strong benefits.  As importantly, though, we want all of our staff to know how important they are to our mission and having strong funding from our Foundation will make a real difference.  We thank the Affordables volunteers for this commitment to our staff.  The volunteers at Affordables are a remarkable group of individuals who we also appreciate dearly.  Thank you!"
The overall goal for the Lean Into Love Campaign is $50,000.  To learn more contact Larry Elphic at 515-509-3299 or go to the following Bethany Life website link: www.bethanylife.org/news/lean-into-love-appeal/.