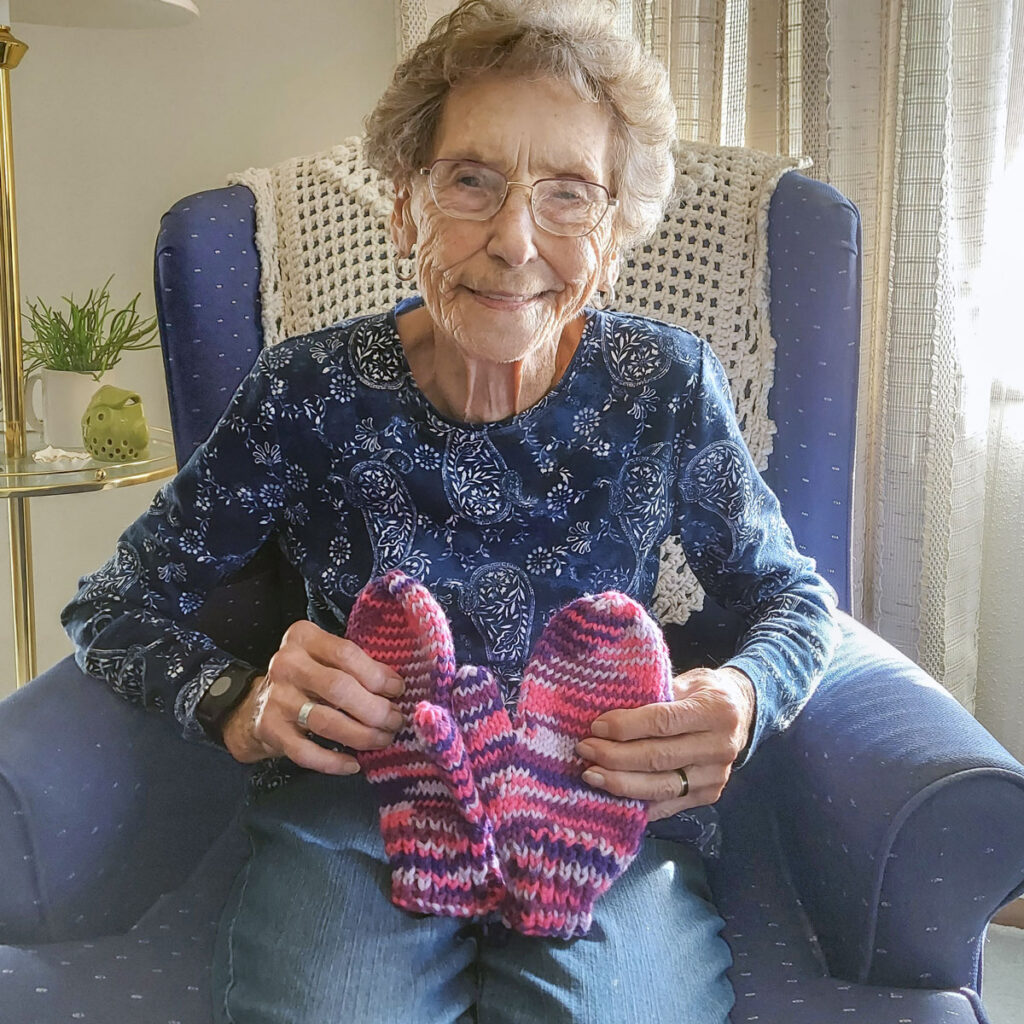 If you ever meet 92 year old Harriet Erickson of Jewell, Iowa, she will probably be in the middle of something. There are many things that Harriet does to keep herself busy, like making "tip towels" for the kitchen, crocheting squares and making Afghans, adding embroidery to pillowcases, working puzzles, or knitting mittens and hats.
As I sat down for a visit with Harriet in her home on a crisp fall day, she shared with me that she has "too much energy" and she just has to stay busy. As Harriet has gotten older and is unable to drive long distances, she has taken up many different hobbies that she can do at home to pass her time and bless others. I first heard about Harriet Erickson from Natalie Johnson, Store Manager at Affordables Thrift Store in Story City. Natalie told me I needed to meet this incredible woman whom the store gives all of their donated yarn to.
For many years now, Harriet has been knitting mittens in a few different sizes and donating them to local schools so every child has an opportunity to stay warm in the cold months. Harriet knits 24 pairs of mittens for Roland-Story, South Hamilton, Hubbard-Radcliffe, and North East Hamilton Elementary schools. This year she even started knitting hats to send along as well. Harriet shared that she also keeps spare mittens in her house in various sizes, so if she sees a child walking to school past her house without winter gloves on, she can help them out in the moment. The local schools are thankful for this blessing from Harriet. The kids put together handmade thank you notes from the classes, which Harriet treasurers and hangs up in her home. Harriet doesn't let a scrap of the donated yarn go to waste either. She uses all the scraps she has and crochets small quilt blocks. When she has enough quilt blocks, she makes an Afghan and donates it to the residents at The Households of Bethany.
While many her age are slowing down, Harriet isn't ready for that yet. And as long as generous folks in our communities donate yarn to Affordables Thrift Store, Harriet will have plenty to keep her busy. Our local communities are so blessed by this gem of a woman!
---


If you need ANYTHING…look no further than Affordables in Story City. This store has it all from new, donated, antiques, furniture, clothes, and handmade items. All sales support the mission of Bethany Life and people like Harriet who pay it forward each day. Stop in and see us! Natalie Johnson is our manager and works closely will all our wonderful volunteers.
We are always looking for more volunteers at Affordables!
Stop in or contact Natalie for more information.
Store hours – Tues-Fri: 10a-5p Sat: 9-3 Sun & Mon: Closed
630 Pennsylvania | Story City | 50248